Barrington Boy Launched A Crusade On Air Purification
Barrington Needs Air-Purification
Growing up in the Barrington Illinois area, Joshua always possessed an entrepreneurial drive to help those in need. After graduating from Barrington High School, Joshua went off to college studying business and engineering. After obtaining his degrees and moving on to work for various mechanical companies, things just didn't seem right. He realized that satisfaction was not derived by fixing things. Instead, the motivating factor was helping others within the local community and providing them with the convenience of a trustworthy adviser that offered honest and ethical work standards. Equipped with overwhelming technical knowledge and mechanical skills, Joshua set out on a path to break away from the heartless corporate money-making machine to make a difference.
Barrington Heating and Cooling Services
The local Barrington boy decided to launch a crusade to educate his community on the importance of indoor air quality (IAQ) and provide healthy solutions to support a higher quality of life. Indoor Climate Experts HVAC has emerged among the sea of average heating and air conditioning companies to make a difference. Residential indoor air quality is one of the most recent emerging markets in the united states. While the EPA and OSHA have developed standards and regulations regarding IAQ among some facilities, the importance has yet to become adopted by the American people. Our mission is to increase awareness of the IAQ topic and how it affects our quality of life every day.
Air Quality In Barrington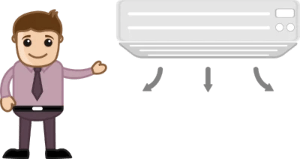 With an "F" rating by the American Lung Association, the Chicago-land area has been ranked 19th among the most polluted areas in the country, this includes Barrington. Most people typically spend 90% of their time indoors where the air quality is typically 5 to 100 times worse than that of the environment around them. We have found these statistics rather alarming and have launched this crusade to do our part in making a change.
Everyone Deserves To Breathe Clean Air
There are many products available within the emerging indoor air quality market, but strict regulations and standards have yet to be enforced. Armed with the background in scientific and technical training, Joshua developed a process to put these products to the test and analyze the data collected to create solutions that will offer proven results.
Upon completion of our independent test results, a select few proven companies, including the Lennox Healthy Climate division, maintain an overall "No Frills" advertising campaign that holds true to their claims. We ultimately chose to partner with Lennox Industries based on our shared unique values to provide reliable, effective, high quality solutions to combat this epidemic. Not only does Lennox offer a complete line of cutting-edge holistic indoor air quality products, but they also produce the most high efficient heating and air conditioning equipment that continues to shatter the industry standards. Those who value the importance of healthy indoor air quality should also advocate for solutions that reduce the emissions that create poor air quality in the first place.
What Is Indoor Air Quality
So, you may be asking yourself, what is indoor air quality? Why should I care about air purification? Am I going to notice a difference? Indoor Climate Experts HVAC was developed with the purpose to help others by educating and providing our local community with trustworthy advisers that offer an honest and holistic solutions to improve your health and comfort.
How many times have you developed a headache or fatigue while indoors and then realized that moments after you exit the building your symptoms subside, only to return after going back inside?
This should be your first indication that something is wrong.
Science Advisory Board (SAB) has consistently ranked indoor air pollution among the top five environmental risks to public health. 
Many of the common things that we associate with medical conditions are symptoms of poor IAQ. The contaminants in the air are inhaled and absorbed through our lungs.
Do you really want to use your body as your primary air filter?
Common symptoms reported by the EPA
Average
cough, eye irritation/dry contacts, allergies, headaches, fatigue, sneezing, dizziness, nausea, congestion, shortness of breath, skin irritation, carbon monoxide poisoning, and legionnaires disease among others.
Higher Risk
Those who have respiratory diseases, allergies, weakened immune systems, chemical sensitivity, and asthma.
In addition to those impacted the most are children since they are still developing and are typically more active, causing them to breath more.
When most people think about air quality, the extent of their understanding is that which has been expressed by the media. We have all heard about the dangers of older gas appliances leaking Carbon Monoxide (the silent killer) due to lack of maintenance. When the sun is glaring through your windows in the morning and you can see the dust floating around and accumulating on every surface in your home, you know it's time to vacuum, open the windows to let some fresh air in or maybe even change the furnace filter. The truth of the matter is that visual indicators are among the least of your worries.
3 major factors that are associated with analyzing air quality
Volatile Organic Compounds (VOC's)

Often things that you can smell, such as air fresheners, cleaning supplies & paint.

Semi-Volatile Organic Compounds (SVOCs)

Things you cannot smell but still emit pollutants, such as plastics, formaldehyde, pesticides & linens.

Fine Particulates (PM2.5's)

Contaminates on the smallest level, such as mold, asbestos & smoke.
So, what are some things I can start doing now to benefit my indoor air quality?
There are a few simple habits you can adopt to begin making a change.
Avoid the use of anything that emits smoke in your home. This includes things such as: candles, wood fires, cigarettes.
Use natural cleaning products that do not have any fragrance and increase the ventilation while cleaning to allow the VOC's to escape your home.
Keep your house free of clutter. This allows things such as water leaks, mold, mildew, trash and other things to go unnoticed.
Be sure that all your gas burning appliances are vented properly, regularly serviced and maintained. This will help avoid the accumulation of harmful contaminants such as; carbon monoxide, volatile organic compounds, and fine particles.
Store all your chemicals, cleaners, paints, building supplies in your garage or sealed room that is not exposed to the rest of your house. Preferably a room with an exhaust fan that does not share your home's ventilation.
Keep the Humidity in your home below 50% throughout the summer and above 35% during the winter.
Are you interested in finding out exactly what is in your air?
Indoor Climate Experts HVAC is your solution. Our team of NATE certified technicians have the knowledge and tools necessary to analyze your indoor air quality to provide you with custom-tailored solutions to increase your quality of life. Every member of our community is important to us and we take great pride in what we do.
Our success is measured based on the satisfaction among our clients and knowing that we are helping others. Please visit our Facebook page or website for educational notes, homeowner tips and testimonials from those who have benefited from our services already. We are have quickly become Barrington's #1 recommended trusted advisers for an honest and ethical approach to premier indoor climate solutions.
"We do not simply fix problems, we provide solutions"